When To Buy A Wedding Dress: The Best Time To Buy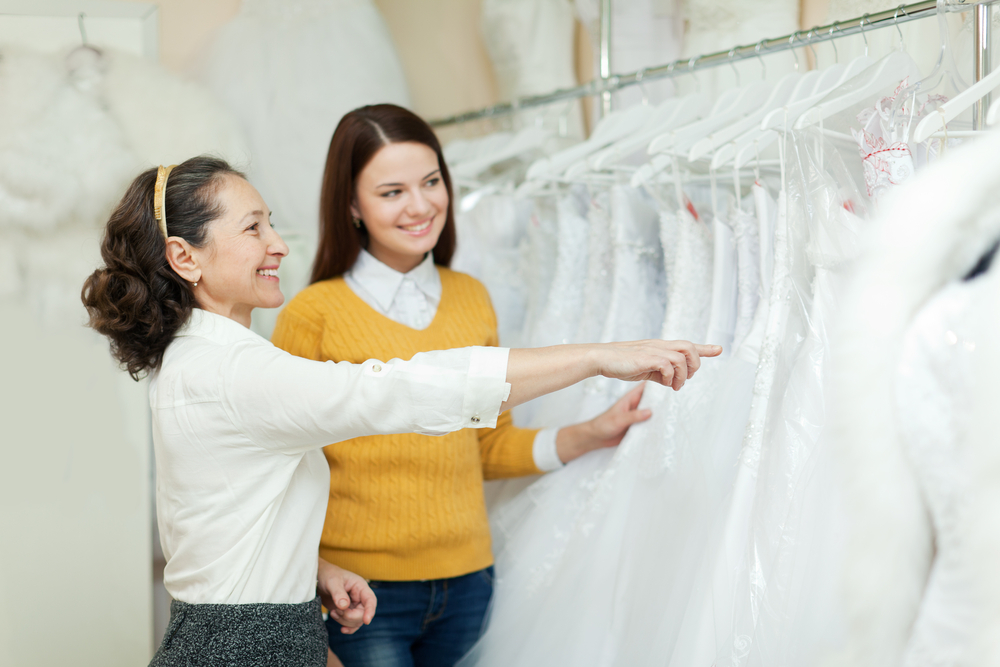 Planning a wedding is no easy feat. But, it will be one of the most exciting and rewarding experiences that you will go through in your life!
If you are planning a wedding, then you know how important it is to have a special day to celebrate the love between yourself and your partner, and you will want everything to go smoothly.
Many brides have a checklist that they have to go through in the planning process. Got a venue? Check! Picked a date? Check! Got a mood board? Check. So what's next? The wedding dress!
Some brides feel that this is the most important part of their wedding. But, how do you know when to start looking? Or when to start buying?
This is where we come in handy. We have created an easy guide to help you find out when the best time to buy a wedding dress is, and how to fit it into your busy wedding planning schedule.
Image from: https://www.glamour.com/story/what-i-never-expected-about-shopping-for-wedding-dress-as-gay-woman
How long before the wedding should you buy your wedding dress?
If you are ready to start dress shopping, then you are probably wondering how long before the wedding you should be buying your dress. The general rule of thumb is to purchase the dress between 6 and 12 months before the wedding.
This is so that there is plenty of time before the big day, but also not too far ahead that your body could change drastically.
Once you have a venue and a date set, we recommend that you start shopping about a year before your wedding, as it could be months before you actually find your dream dress.
Then, you will have plenty of time to find your dress, book for fittings, and alterations before the big day.
We do not recommend finding a dress before the date or the venue is booked because you do not know what time of year you are getting married, what the weather is likely to be like, and what the venue or setting of the wedding will be.
Without that information, it can be hard to find a dress that fits in with those.
It can be tempting to go wedding dress shopping first, but this is never a good idea! If you purchase one of the first dresses you see in excitement, then by the time it comes to the wedding you may have doubts, or like another dress instead. So, stick to the schedule!
When is the best time of year to buy a wedding dress?
It is hard to decide which is the best time of year to buy a wedding dress, as this depends on your choice, budget and when your wedding is booked. This is because you will need a few weeks, or even months for shopping, fittings, and any alterations before the big day.
However, if you are on a budget, or hoping to cut some of the costs down on your wedding, then you may want to know when the best time of year is to find those deals and bargains. For the most part, January is considered the best time of the year for this.
This is mainly due to the fact that so many couples tend to get engaged around the holiday season and around Christmas. This means that by January, wedding planning is in full swing!
Therefore, during the month of January, wedding dress merchants and designers tend to use this time to drop new collections, products and offer discounted prices and sales for their collections.
In addition, the new line of wedding dresses often means that older versions are discounted, with lots of money off, and there are more options to choose from.
Additionally, many people choose to have summer weddings, or fall weddings, as these are the most popular wedding seasons.
Therefore, most brides start looking for dresses in January as this is roughly only 6-7 months away from the big day. For these reasons, it is usually best to hit the January sales, and start searching for your gown!
Image from: Wedding Gown Shopping Etiquette – Rules To Keep In Mind Before Buying A Wedding Gown (townandcountrymag.com)
Tips for buying your wedding dress
Once you are ready to start shopping for dresses, we have a few tips that you are going to want to follow. Of course, you should have a date and venue picked first, as those are essential, and then you can start wedding gown planning!
The most important thing to remember is that you are on a budget. It may be a small budget, or a large one, whichever it is…stick to it.
Try to refrain from looking at dresses way out of your budget, as the likelihood is you will fall in love with one, and it could bankrupt your wedding, when you may need the money for organizing other parts of your big day.
In addition, you may want to look at sales, and sample sales as you could be lucky, and end up finding your dream dress for a bargain! This means more money for the honeymoon!
Another tip we should give you is to have fun with it! Window shop, try three, four, five or more different shops…you do not have to find your dress in the first one you try. This is a big decision, and one that will be in a lot of photographs, so have fun, and enjoy the experience.
Buying a wedding dress is sometimes a very important decision for many people, and it is often something that you have dreamed about for a long time. That being said, you will want to keep an open mind about which dress you buy.
Yes, having an idea in your mind is good, but often, you will find that you cannot find a dress that meets the expectations built up in your head. This is why we recommend that you go in with an open mind, and look at things you least expect.
You never truly know what you might find, and even if the dress is in the complete opposite direction of what you thought, you may look absolutely incredible in it.
Timeline for wedding dress shopping
Planning a wedding can be very stressful, and a lot of hard work. So it is typically better to have a serious timeline, checklist and plan of events in place. Now is the time to let those organization skills shine!
Get a list of all the tasks, errands and plans that need sorting, and start checking them off in order. To help you out, we have created a wedding dress timeline, to keep your big day on track.
Engagement
As soon as you are engaged, and your partner pops that question, it can be tempting to start looking for dresses, but we're sorry to tell you that you need to refrain.
However, by all means start gathering information. Start a Pinterest board. Buy wedding magazines. Get a wedding planner. Do your research! This is the time to really dig deep and start looking into what you want.
You may use this time to look for inspiration for the big day, and for your wedding gown, just do not start shopping just yet. In this time, you may find what style dress you like, or what features and patterns you like, and which ones you want to avoid.
The next thing you need to do is find a wedding venue, and select a date for your wedding! This will help you discover what types of wedding dresses you need to look for.
For instance, is it a beach or location wedding – where you will need something light, and flowy. On the other hand, if you are hoping for a winter wedding, then this will affect your dress choice, too.
Another vital point is that you set a budget for the wedding immediately, before you start booking and buying. This is just as important when it comes to choosing a wedding dress.
You do not want to fall in love with a dress, have your heart set on it, and then find that it is double your budget. In addition, wedding dresses have to be altered, and you need to purchase a veil, shoes, accessories and much more to go with it. These costs all add up!
1 year to go
Once you have booked your wedding venue and set a date, then usually you will have plenty of time to enjoy your engagement, and start casually planning the wedding.
With a year to go until the big day, you can start having a look at some wedding dresses, but we recommend that you do not commit to one at this point.
Take a good look at multiple shops, look online, try a few on…keep searching. Just start slowly, and enjoy the fun of trying on a few dresses, seeing different styles on your shape, and welcome the free champagne!
Wedding dresses are often released every six months or so, so you will not want to commit to one straight away, as new ones could be released that suit your dream wedding! You can use this time whilst the wedding is far away to really do your research and narrow down the search.
You can even book trips to bridal stores in another state, or a little further from home to find the perfect dress for your day.
We cannot stress enough how essential it is to keep an open mind. Try on dresses you would not normally pick, as you may find a hidden diamond that really is the one.
6-9 months to go
When you reach this stage, it is time to narrow down the search for the wedding dress, and pick your dream gown. Now is the time to 'Say Yes To The Dress'. Try on as many dresses as you can, and see how they work for you.
However, keep in mind that the gowns in the bridal shops are there to try on, and for display, and you will need to wait for your gown to be fitted in a few weeks time.
This is why the 6-9 month point is perfect for purchasing the gown, as it gives you plenty of time for a first fitting, alterations and other final fittings.
Make sure you have all of your accessories, be it the shoes, tiara, veil, whichever you prefer, and wear them to the fittings so that you can see exactly what you would look like on the big day.
A few weeks to go
Once you are a few weeks from the big day, you will need to have any final adjustments made to the dress, and try it on. Now, it's real.
Take the dress, and keep it in a safe place away from anything else. Treat this gown like your baby, and keep it hidden away ready for your big day.
What happens if you do not have time
If you are on a tight schedule, and you do not have months and months to shop and try on dresses, then do not worry. You can still find the perfect gown for your special day.
Keep in mind that you can always shop online as long as you know your measurements, and have your wedding dress delivered in plenty of time.
On the other hand, you can also rent wedding gowns from many stores and shops before the big day, or purchase a second hand gown for a fraction of the cost!
Summary
Finding a wedding dress can be daunting, but it is important that you remember that this is your dress, and your wedding day.
Take bridesmaids and friends with you to help decide, but remember that they just have advice, and they cannot choose for you. Go with your heart, and you will find your dream dress.